If 2020 has taught us anything so far it's that we should expect the unexpected. In the midst of Covid-19, paper bag manufacturers, distributors, and their customers are also dealing with a number of other industry pressures affecting supply and demand. While it seems crazy to think about paper bags right now, eventually things will open back up and retail packaging will be in demand once again.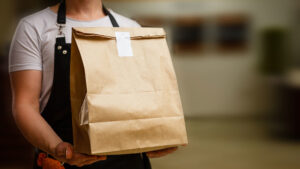 Right now, we're seeing a "perfect storm" in the paper bag business. Essential businesses in the food carryout, grocery, and medical markets are buying mass quantities of paper bags – creating new demand for paper bags like we've never seen before.
Meanwhile, due to bag bans nationwide, retailers are making the switch to paper from plastic in droves. Recent bag bans, like the one in New York, are causing large retailers all over the United States to make the transition to paper.
Long story short, paper bags are in high-demand and it's putting the squeeze on paper bag manufacturers. What does that mean to our distributors and their customers? It's simple: Plan ahead – placing orders for the remainder of 2020 is highly encouraged!
The facts:
Bag legislation is making the biggest impact on SOS bags and handled shopping bags. This affects lead times on custom printed product and supply for stock items.
Handled shopping bag lead times for plain stock and custom print are reaching 12 weeks. Industry experts are recommending ordering for 18-24 months to ensure you don't run out of product.
WCI SOS bag lead times are currently 10-13 weeks. That's lower than many US-based manufacturers, but demand is exceeding predictions and raw material may be in short supply. Placing your orders early is a MUST!
Supply disruptions from imported products makes buying product made in the USA even more desirable. US manufacturers like WCI will be working hard to meet customer demands.
Supply and demand is likely to affect pricing – especially on handled shopping bags. We expect a mid-year price increase on shopping bags.
Online sales are skyrocketing due to safer-at-home orders around the country. That means more customers are ordering products online and shipping bags like Eco-Natural and Dura-Bag® will see increased activity and possibly extended lead times.
Placing your orders for the rest of the year and into 2021 with delayed ship dates will give you the best shot at receiving product when you need it. As one of our customers said: "Think of this like making a reservation for a hard-to-book vacation destination." We couldn't agree more – ordering today is your ticket to success.
What can you do to ease the pressure? Here are some tips:
In case you missed it – PLAN AHEAD! Order today in preparation for 2021.
If you typically order several sizes of paper bags – try to consolidate and order more of the most popular sizes. Doing so helps us schedule more efficiently to maximize production hours and ship product as quickly as possible. Ordering larger quantities to achieve volume discounts can also save you money in the long-run.
Stick to common sizes. Ordering common sizes reduces the number of times machines must transition between bag sizes – meaning we have more hours to produce product and ship bags to customers.
Simplify your prints. We recommend 1c/1s print whenever possible. Fewer ink colors means we can set up jobs quicker and run machines faster. It also saves you money, which may help you in ordering larger quantities at once.
We're here to help you – today, and in the future – as we work through these strange times. Please don't hesitate to reach out to our customer service or sales teams to discuss your planning for the remainder of this year.