As restaurants struggle to remain open during Covid-19 restrictions, take-out and delivery customers are the lifeblood of their business. The number of people taking advantage of take-out and delivery options for the first time is a welcome trend for business owners trying to stay afloat.
Recent surveys indicate 10% of US residents have used restaurant delivery services for the first time, while 14% have increased the frequency in which they are using the service. Another 27% have not used restaurant delivery yet, but may consider it.
The #takeouttuesday and #thegreatamericantakeout movements are gaining momentum, and the need for packaging takeout orders increases. Paper bags are an economical and recyclable way for restaurants to package to-go items.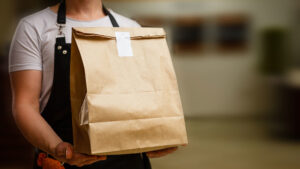 We manufacture and stock variety of food and carryout packaging products – our manufacturing facility is open and running, making paper bags for the restaurant and other essential industries. From single-item bags to twisted handles shopping bags for packaging entire orders, you can choose from stock or custom printed bags in minimums as low as one case.
Popular carryout bags include:
• SOS / Lunch bags – ranging in size from 2# to 1/6 BBL
• Shopping bags – popular food delivery sizes including 16x6x12, 12x7x17, and more
Paper continues to be a cost-effective and sustainable option for packaging foods for delivery and take-out. Our warehouse is stocked and ready to ship paper bags for packaging concession and restaurant food. From grease-resistant bags for gourmet burgers and fries to bakery items like cookies and donuts we can ship immediately
Paper food packaging options:
• Sub & Hoagie Bags
• Grease-Resistant Sandwich Bags
• French Fry Bags
We're proud to support the many restaurateurs and their customers during this difficult time. Whether you need plain stock bags shipped immediately or you're seeking custom printed paper bags to promote your brand, we're here for you. Together we'll get through this.
To find local restaurants in your area offering takeout or delivery, visit your local newspaper or ratio station's website. Thank you to restaurants staying open and to everyone who places orders to keep them open and employing their staff as much as possible.