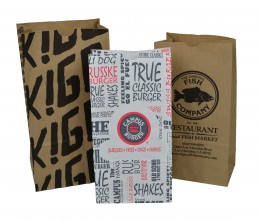 Not just your plain brown lunch bag! Colorful SOS sacks manufactured at WCI will make it easy to promote your special event or business. Our well-constructed flat-bottom bags are perfect for elevating your brand image.
Available in standard sizes ranging from 1# to modified 1/6 Barrel (slightly smaller than a standard grocery bag)
Manufactured with 35# kraft paper and available in heavier basis weights
100% Recycled natural kraft SOS bags meet most bag legislation requirements
Recyclable, biodegradable and compostable
Choose from a collection of attractive, solid color SOS bags
Order custom printed or hot stamped bags with your logo in one-case minimums or buy in large quantities for volume discounts.
---
---
The foodservice and retail packaging industries have counted on WCI for custom-printed SOS bags for more than 25 years. Our high-quality, printed and hot stamped paper bags are also ideal for:
Restaurant Carry-Out Sacks
Bread and Bakery Bags
Bags for Bagel Shops and Delis
Pharmacy Bags
Bags for Veterinary Offices
Wine & Liquor Store Packaging
Promotional or Event Bags
Grocery Store Bags
Party Favor Bags
Popcorn Bags
Promotional Mailing Bags and Fundraising Mailer Bags
Proof Bags for Photography
Candy Shops
Sub and Sandwich Bags / Menu Bags
Bread Bags
Help your business stand out and get noticed with custom printed SOS bags from WCI. Our low minimum orders on printed or hot stamped bags make it possible for organizations of any size to promote their brand. Let us help you sack the competition with personalized bags that fit your budget!
Additional information
| | |
| --- | --- |
| Available Colors | Black, Lime Green, Recycled Natural, Red, Sky Blue, Sunbrite, White, Grease Resistant Natural, Grease Resistant White |
| Bag Dimensions | 1# (3 1/2 x 2 3/8 x 7 1/8), 10# (6 9/16 x 4 1/16 x 13 3/16), 12# (7 1/8 x 4 3/8 x 13 15/16), 16# (7 11/16 x 4 7/8 x 16 1/16), 2# (4 1/8 x 2 1/2 x 7 7/8), 20# (8 1/4 x 5 1/4 x 16 1/8), 20# Shorty (8 1/4 x 5 1/4 x13 3/8), 25# (8 1/4 x 5 1/4 x 18), 4# (5 x 3 1/8 x 9 5/8), 6# (6 x 3 5/8 x 11 1/16), 8# (6 1/4 x 3 13/16 x 12 1/2), Mod. 1/6 Barrel (11 x 6 x 17) |