When it comes to packaging design, many of America's top brands are choosing the sophisticated look of one color printing on their paper bags and boxes. Can you get the same branding value with a monochromatic logo on your packaging as you get with a multi-color logo? Yes! The biggest brands in the United States are showing us that single color graphics make a bold statement.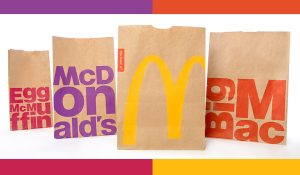 Take McDonald's as an example. Their iconic red and yellow double arches logo is recognizable around the world. McDonald's packaging used to feature white bags with four color printing. But in the past two years they have updated their look from expensive, multi-color SOS bags to a streamlined, economical, one color design. They also replaced bleached white paper with recycled natural kraft SOS bags, a more environmentally friendly paper choice.
Matt Biespiel, Senior Director of Global Brand Development for McDonald's, says these changes help to "reinforce the purchasing decision – having people feel good about walking down the street carrying our bag."
There are many reasons to make the switch to single color designs, but perhaps the most compelling for many businesses is cost savings. 
How can one-color designs save money?
Brands who print with a single color pay less per bag because:
Less ink is used. Mixing a single color of ink is less costly than mixing several colors. 
Fewer printing plates are needed.

 One small plate can range from $80-$150. Actual cost depends on the size of the bag and design. One set of plates is needed for each color, meaning that number grows each time you add another color. It adds up fast!

Labor costs are reduced. It takes less time to mount plates and no registration is required.
One color doesn't mean boring
Just because you're only printing one ink color doesn't mean your bag can't stand out. Try some of these to give your printed bag some personality:
Colored paper. WCI offers 10 stock paper colors in addition to white and natural. Printing on colorful paper can make your packaging "pop"!

Screens. Adding a screen to the image can provide dimension and visual interest.

Bold prints or text. One of the top packaging trends for 2018 is big, bold text that stands out.
Contact us today to learn more about branded one color paper bags. WCI offers printed merchandise, SOS, grocery, pharmacy, retail, and shipping bags with one-case minimums.