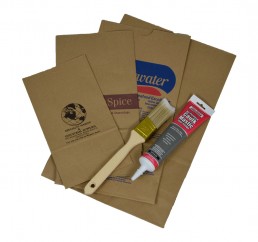 If your industrial customers need a bag that works as hard as they do, WCI hardware bags are the solution they're looking for. Made with top-quality, heavy-duty recycled kraft paper, these heavyweight SOS bags are ideal for use in hardware stores and other industrial applications.
These heavier weight bags are perfect as evidence bags for police, detective, and other law enforcement use. They come in a variety of sizes and can be printed with your specific municipality needs to ensure proper documented chain of custody.
Put them to the test, they can handle it!
Being tough doesn't mean they can't look good too. Custom printing with one-case minimums provides even the smallest customer a cost-effective packaging solution that will help promote their business.
Don't see what you need? Check out our custom solutions or call us now to have us recommend a distributor!
---
---
Heavy-duty SOS bags made for the toughest packaging challenges. Ideal for machine parts, hardware stores, grocery, carry out, and other heavy items. Made from 100% recycled fibers. Recyclable, biodegradable and compostable paper bags are available in sizes ranging from 2# to Modified 1/6 barrel. Custom printing available with low minimums.
---
Size
(#)
Stock
Size
Stock
Colors
Basis
Wt.
Carton
Pack
Carton
Wt.
2#
4 1/8 x 2 1/2 x 7 7/8
RN
50#
250
5#
4#
5 x 3 1/8 x 9 5/8
RN
50#
250
8#
6#
6 x 3 5/8 x 11 1/16
RN
50#
250
10#
8#
6 1/4 x 3 13/16 x 12 1/2
RN
57#
250
14#
10#
6 9/16 x 4 1/16 x 13 3/16
RN
57#
250
14#
12#
7 1/8 x 4 3/8 x 13 15/16
RN
57#
250
30#
16#
7 11/16 x 4 7/8 x 16 1/16
RN
57#
250
38#
20#
8 1/4 x 5 1/4 x 16 1/8
RN
57#
250
20#
25#
8 1/4 x 5 1/4 x 18
RN
57#
250
23#
Additional information
| | |
| --- | --- |
| Available Colors | Recycled Natural |