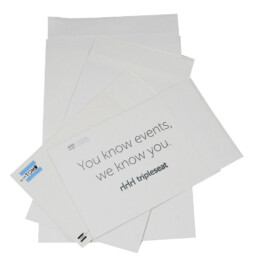 Eco-Shipper® mailers have been used since 1991 by large, cost-conscious catalog and e-commerce companies around the world. Now smaller shippers can take advantage of this environmentally-friendly shipping option. One-case minimums and volume discounts on stock and custom-printed Eco-Shippers make them a viable solution for online retailers of any size. Small Ebay and Etsy sellers to large chain stores like Lands End, Ann Taylor and Eddie Bauer appreciate the strength, convenience and appearance of these attractive, 100% recyclable, compostable and biodegradable mailers.
Eco-Shipper® Specifications:
Eco-Shipper® has a white outside and natural (brown) inside
Made from recycled fibers
100% recyclable, biodegradable and compostable
Provides a cost-effective, environmentally responsible solution to your mailing needs
Available in flat & gusseted styles to accommodate items small and large
Peel & seal closure
Resealable closure available as a custom option for returns
Superior tear and puncture resistance
Looking for a 100% recycled option? Check out Eco-Natural kraft mailers.
---
---
Eco-Shipper® shipping bags are 100% recyclable and made from a minimum of 50% recycled fibers. Their clean, white exterior looks great plain or custom printed with your logo. Paper mailers provide a sustainable, recyclable and biodegradable packaging option for online retailers seeking an alternative to plastic shipping bags.
---
Size
Stock
Size
Stock
Colors
Basis
Wt.
Carton
Pack
Carton
Wt.
0PS
6 x 10
WH
126#
500
27#
1PS
7 1/4 x 12
WH
126#
250
18#
2PS
8 3/4 x 12
WH
126#
250
21#
4PS
9 1/2 x 14 1/2
WH
126#
250
26#
5PS
10 1/2 x 16
WH
126#
250
32#
6PS
12 1/2 x 19
WH
126#
200
35#
7PS
14 1/4 x 20
WH
126#
200
42#
Gusseted Sizes
6GPS
6 x 2 3/4 x 12
WH
99#
500
32#
8GPS
8 1/2 x 3 1/4 x 14 1/2
WH
99#
250
29#
9GPS
9 1/2 x 3 x 16
WH
99#
250
30#
10GPS
10 1/2 x 3 3/4 x 19
WH
99#
200
33#
12GPS
12 1/2 x 4 x 20
WH
99#
200
40#
Additional information
| | |
| --- | --- |
| Available Colors | White |
| Bag Dimensions | 0 ( 6 x 10), 1 (7 1/4 x 12), 10 1/2 x 16 (#5), 10 1/2 x 3 3/4 x 19 (#10G), 12 1/2 x 19 (#6), 12 1/2 x 4 x 20 (#12G), 14 1/4 x 20 (#7), 6 x 2 3/4 x 12 (#6G), 8 1/2 x 14 1/2 (#3), 8 1/2 x 3 1/4 x 14 1/2 (#8G), 8 3/4 x 12 (#2), 9 1/2 x 14 1/2 (#4), 9 1/2 x 3 x 16 (#9G) |