Paper Bags to the Rescue!
Ok, maybe paper bags aren't superheroes. But they're definitely helping the superheroes on the front lines of the Covid-19 crisis. As healthcare workers work to treat patients in hospitals all over the country, they're utilizing paper bags as an important tool in reducing cross-contamination and extending the usage of PPE equipment like masks and eye protection. Why paper bags? Good Question!
There are a number of reasons medical professionals use paper bags for mask storage:
Paper is breathable. That means masks will dry out, preventing bacteria from growing.
Putting masks in paper bags protects the mask from cross-contamination during storage between patients or between shifts. Masks won't touch each other, or be contaminated by dust or germs so they can safely be reused.
Paper is easy to write on for labeling and identification purposes.
They're durable. Paper bags can last for many uses between shifts or patient rooms. In addition, once they've done their job, they're easily disposed of.
Depending on their application, there are different types of bags mask storage and protection:
SOS/Lunch Bags for Mask Storage:
These bags are popular because they feature a square bottom so they can stand on their own on a table or shelf. They're easy to open and can be labeled names, days of the week or shift information. SOS bags are available in 100% recycled natural kraft, white, or a variety of stock colors depending on bag size. Recommended sizes: 6#, 8# and 10# depending on type of mask and purpose of use.
Handled Shopping Bags for Mask Storage:
The twisted paper handles on these paper bags make them ideal for hanging outside patient rooms for easy access. Used in hospitals where staff goes between patient rooms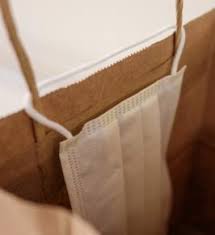 throughout their shift and must use one mask for each patient. Masks can hang outside the patient room marked with patient or staff names, and other pertinent information.
The handles can also be used to hang masks on to avoid contamination when placing the masks inside the bag – or removing them for use. This avoids reaching your hand into the bag to retrieve it, which can spread germs. Handled paper bags are available in 100% recycled natural or recycled white paper. Recommended sizes: 5.5 x 3.25 x 8.375, 8 x 5 x 10.25
Merchandise Bags for Mask Storage:
Small, flat merchandise bags are an inexpensive way to store a single mask for short-term storage. They're lightweight and can hang on bulletin boards or walls with tape or tacks either outside patient rooms or at the nurses' station. Merchandise bags, depending on size needed, come in 100% recycled natural kraft, white, or stock colors.
Recommended sizes: 5 x 7.5, 6.25 x 9.25, 7.5 x 10.5
Our customer service team is here and ready to help you select and purchase appropriate sizes of SOS bags, handled shopping bags, and merchandise bags for healthcare use during the Covid-19 crisis and beyond.