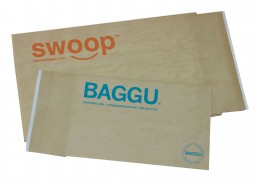 Dura-Bag® and Dura-Bag® Peel & Seal provide an ideal solution for companies interested in reducing shipping, mailing, handling and storage costs. Consisting of two sheets of WCI's 35# natural kraft paper reinforced with fiberglass, these attractive mailers ensure strength and security in protecting your products during shipping and storage.
Dura-Bag® Specifications:
Resist tearing and puncturing
Manufactured with water resistant paper to help keep out dirt and moisture
Lightweight to reduce postage costs
Glazed finish for better presentation and easy loading
Available with easy closure "Peel & Seal" flap
---
---
Dura-Bag® shipping bags are reinforced with fiberglass strands to offer strength and security when shipping. Manufactured with natural kraft paper and available in one-case minimums plain or printed, they're popular for online retailers shipping large, heavy, or bulky items. A great alternative to plastic shipping bags. Stock sizes range from 5 x 10 to 12.5 x 4 x 20 – choose the size(s) that best fit your shipping needs.
Size
Stock
Size
Dura
/
Dura
PS
Basis
Wt.
Carton
Pack
Carton
Wt.
00PS
5 x 10
Dura PS
80#
1000
30#
0PS
6 x 10
Dura PS
80#
1000
33#
1PS
7 1/4 x 12
Dura PS
80#
1000
45#
2PS
8 3/4 x 12
Dura PS
80#
500
28#
3PS
8 1/2 x 14 1/2
Dura PS
80#
500
31#
4PS
9 1/2 x 14 1/2
Dura PS
80#
500
34#
5PS
10 1/2 x 16
Dura PS
80#
500
40#
6PS
12 1/2 x 19
Dura PS
80#
250
28#
7PS
14 1/4 x 20
Dura PS
80#
250
33#
5GPS
5 x 2 x 10
Dura PS
80#
1000
35#
6GPS
6 x 2 3/4 x 12
Dura PS
80#
500
26#
8GPS
8 1/2 x 3 1/4 x 14 1/2
Dura PS
80#
500
40#
9GPS
9 1/2 x 3 x 16
Dura PS
80#
500
47#
10GPS
10 1/2 x 3 3/4 x 19
Dura PS
80#
250
31#
12GPS
12 1/2 x 4 x 20
Dura PS
80#
250
38#
000
4 x 8
Dura
80#
2000
33#
00
5 x 10
Dura
80#
1000
24#
0
6 x 10
Dura
80#
1000
28#
1
7 1/4 x 12
Dura
80#
1000
41#
2
8 3/4 x 12
Dura
80#
1000
50#
3
8 1/2 x 14 1/2
Dura
80#
500
28#
4
9 1/2 x 14 1/2
Dura
80#
500
30#
5
10 1/2 x 16
Dura
80#
500
37#
6
12 1/2 x 19
Dura
80#
250
25#
7
14 1/4 x 20
Dura
80#
250
31#
17
17 x 28
Dura
80#
250
49#
4G
4 x 2 x 10
Dura
80#
1000
28#
5G
5 x 2 x 10
Dura
80#
1000
36#
6G
6 x 2 3/4 x 12
Dura
80#
1000
48#
9G
9 1/2 x 3 x 16
Dura
80#
500
44#
10G
10 1/2 x 3 3/4 x 19
Dura
80#
250
30#
12G
12 1/2 x 4 x 20
Dura
80#
250
35#
Additional information
| | |
| --- | --- |
| Closure | Peel & Seal, Plain (No Closure) |
| Bag Dimensions | 6 x 10 (#0), 7 1/4 x 12 (#1), 8 3/4 x 12 (#2), 8 1/2 x 14 1/2 (#3), 9 1/2 x 14 1/2 (#4), 10 1/2 x 16 (#5), 12 1/2 x 19 (#6), 14 1/4 x 20 (#7), 5 x 2 x 10 (#5G), 6 x 2 3/4 x 12 (#6G), 8 1/2 x 3 1/4 x 14 1/2 (#8G), 9 1/2 x 3 x 16 (#9G), 10 1/2 x 3 3/4 x 19 (#10G), 12 1/2 x 4 x 20 (#12G) |
| Available Colors | Natural |