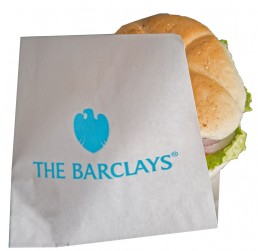 Check out our wide selection of concession bags, ready to custom print with your logo, or choose one of our stock designs.
Our selection of pinch-bottom, pre-printed popcorn bags offers sizes ideal for movie theaters, banks, high school sporting events, waiting rooms, and more. If you want a bag that's custom printed to promote your business or event, our low minimums mean you can have a bag that really "pops."
Hot Dog! We've got corn dog and hot dog bags in stock and available for immediate shipment. Hot dog stands and food booths will appreciate our selection of plain and pre-printed hot dog and corn dog bags. Available with open end and open side options.
Sandwich, pretzel and cookie bags from WCI are available in white or natural grease-resistant kraft paper. They're perfect for sandwiches and panini served to go or for delicious hot pretzels, cookies, burgers and other food items. Grease-resistant bakes are useful for baked and fried foods like fried pies, donuts, and more.
Restaurants, food trucks and concession stands will find our French fry bags ideal for packaging fries as well as deep-fried cheese curds, onion rings, and other deep-fried goodness. Don't see a size that will fit your food items? Ask us about custom sizes to fit your portion size.
Economical concession packaging options are available plain, pre-printed, or custom-printed just the way you like 'em! Get 'em while they're hot!
Call us now to have us recommend a distributor!
Don't see what you need? Check out our custom solutions.
---
---
Whether you're packaging hot dogs, french fries, or delicious burgers – you'll be serving them up in style with concession bags from WCI. Our stock assortment includes hot dog bags, french fry bags, popcorn bags, sandwich and burger bags, and more. Used by restaurants, concession stands, stadiums, schools, and more. One case minimums and bulk discounts available. Call today!
GN – Grease Resistant Natural, GW – Grease Resistant White, WH – White
---
Size
Design
Stock
Colors
Basis
Wt.
Carton
Pack
Carton
Wt.
3 1/2 x 2 x 8
Popcorn – Stock Design
WH
25#
1000
7#
4 3/4 x 1 1/4 x 12
Popcorn – Stock Design
WH
25#
2000
21#
5 x 3/4 x 10
Popcorn – Stock Design
WH
25#
1000
9#
2 3/4 x 10
Stock Unprinted Silverwarwe
WH/RN
20#
2000
8#
3 x 1 1/2 x 6 1/2
Stock Glassine Bag
Glassine
25#
1000
5#
3 x 2 x 9
Open End Hot Dog
GW
20#
10/1000
55#
3 1/2 x 2 x 9
Open Side Hot Dog
GW
20#
10/1000
54#
3 x 2 x 12
Open End Foot Long
GW
20#
1000
8#
3 x 3/4 x 7
Corn Dog
GW
20#
1000
4#
7 x 1 x 8
Open End Sandwich Bag
GW
20#
1000
8#
6 x 3/4 x 7
Open End Sandwich Bag
GW
20#
6/1000
36#
6 x 3/4 x 7
Open End Sandwich Bag
GN
20#
6/1000
36#
4 1/2 x 2 x 9
Open End Large Hot Dog
GW
20#
1000
7#
4 1/2 x 3 1/2
French Fry
GW
20#
10/1000
35#
5 X 1 x 4
French Fry
GW
20#
10/1000
46#
Additional information
| | |
| --- | --- |
| Available Colors | White, Grease Resistant Natural, Grease Resistant White |