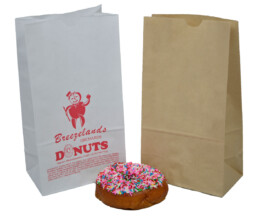 Specialty bakeries and coffee shops prefer paper bags to store and package fresh-baked breads, bagels, pet treats, and donuts because, unlike plastic, paper is porous and allows bread to breathe. Allowing moisture to escape is known to maximize freshness and enhance taste. Environmentally-conscious customers also appreciate the decision to use paper as it is recyclable and biodegradable.
We offer an array of unique and attractive paper grades to choose from. In addition to standard white and grease-resistant paper options widely used by donut shops and bakeries, bags are manufactured and stocked with unbleached, grease-resistant natural kraft or recycled natural kraft paper in many shapes and sizes. Packaging with a natural appearance often reinforces the brand image of many organic and natural bakeries.
Don't see the size you need? Our packaging experts can help you learn about custom size options!
---
---
Serve them up hot and fresh! Grease-resistant merchandise and SOS bags are popular for bakeries and specialty eateries for packaging bagels, doughnuts, and other baked or fried items. Choose from standard sizes in grease-resistant white or natural kraft paper designed to keep freshness in and prevent oils and grease from leaking through.
Additional information
| | |
| --- | --- |
| Available Colors | Recycled Natural, White, Grease Resistant Natural, Grease Resistant White |
| Bag Dimensions | 4# (5 x 3 1/8 x 9 5/8), 6 x 3/4 x 7, 6# (6 x 3 5/8 x 11 1/16), 8# (6 1/4 x 3 13/16 x 12 1/2) |