It's January and that means we're all looking forward to what the New Year will bring. When it comes to packaging, the 2020 trends take much of what started in 2019 and run full speed ahead.
Trend #1: Sustainable Packaging
Many businesses are focusing on reducing their reliance on plastic and are seeking sustainable packaging options – and that won't be changing anytime soon. The move away from plastic and other non-renewable packaging options have increased the demand for biodegradable and compostable packaging like paper bags.
Paper bags, by in large, are renewable and sustainable. Read more about WCI biodegradable and compostable packaging – and choosing the right bag for your business.
With so many businesses making the move to paper bags, planning ahead will also need to be a trend. As demand increases so will lead times for popular sizes. Be sure to take this into account whether you're making the switch to paper bags or have been using them for years. As a manufacturer, we are doing everything we can to increase capacity and efficiency, but there's no substitute for planning ahead to make sure you have your packaging when you need it.
Trend #2: E-Commerce Packaging Growth
As online shopping continues to grow steadily, retailers large and small are working toward a seamless customer experience between their e-commerce and brick-and-mortar stores. That means a website and in-store atmosphere that present the consumer with the same shopping experience regardless of their purchasing channel. Packaging plays an important role in the customer experience and a retailer's brand image. This month, we'll take a look at how WCI paper bags can help retailers be on-trend with their packaging for both e-commerce and in-store sales.
Online shopping statistics show that e-commerce sales rose 18.8% between November 1 and December 24 last year, compared to the same time frame in 2018. E-commerce is here to stay and continues to grow at substantial rates. WCI shipping bags provide a sustainable packaging alternative for online retailers using plastic mailers. Whether shipping clothing, literature, promotional products, samples, or other durable goods there is a shipping bag suitable for the job.
Eco-Natural mailers

Natural kraft gives an eco-friendly appearance to reinforce your brand image
Made from 100% recycled materials, 90% post-consumer content
100% recyclable
Compostable & biodegradable

Eco-Shipper® mailers

White kraft exterior with natural kraft interior give a clean, polished image without sacrificing eco-friendly functionality
Contains a minimum of 50% recycled content
100% recyclable
Compostable & biodegradable

Dura-Bag® mailers

Made for strength and durability
Made from two sheets of virgin paper reinforced with crisscross fibers
Recyclable in some municipalities
Trend #3: Keep It Simple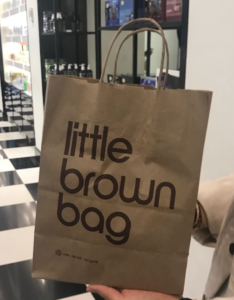 In a time where life seems more complicated than ever, many companies are opting to go the opposite direction and focusing on simplicity. Simple packaging can be more pleasing to the eye, easier to open, and is more likely to be recycled if multiple layers of packaging don't need to be separated. What could be simpler than a classic paper bag? Paper bags are a stylish option whether customers are taking home a small purchase from a boutique or have ordered their product online and are anxiously awaiting its arrival on their doorstep.
Just as many consumers are looking for food with minimal ingredients, clearly labeled and unprocessed – less can be more when it comes to packaging. As simple and versatile as the "little black dress" – a "little brown bag" is as classic as they come.
Trend #4: Vintage Packaging
Not only is easier-to-use packaging growing in popularity but giving consumers a feeling of a "simpler time" is a trend that's been popular for a couple of years now. From farmhouse chic to '80s retro looks, what's old is new again in home decor, clothing and packaging. WCI paper merchandise bags come in a variety of sizes and colors that range from classic brown kraft to lime green – giving you countless options to be on-trend in color palette. Take advantage of custom printing to give your packaging a unique twist – and transport your customers to the decade that speaks to them.
Trend #5: Playful Colors & Messaging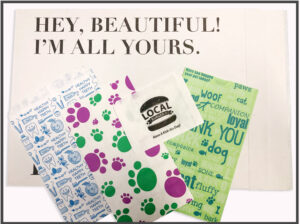 Who says packaging has to be serious? Give your customers something to talk about! Packaging that tells your story – or makes customers laugh is more likely to be shared on social media or saved and reused as a gift bag, book cover, or carrying tote. Your message obviously depends on your audience, but this is the year to take some chances and be playful if you can.
Paper bags can have more than just your logo and website – adding a playful message or interesting design can enhance your branding and get people talking. While we can't make paper bags with "mermaid" sequins, we do offer a variety of stock paper colors, custom printing and hot stamping to help you create packaging that will stand out in the crowd.
Whether your business is trendy or classic, playful or practical, paper bags manufactured and custom printed at WCI can help your business create packaging that will help your business stand out.