WCI is pleased to announce new and improved print capabilities for custom printed 2# SOS bags. In our commitment to providing the best quality and selection to the food service, concession and retail markets, this expanded offering provides opportunities for high-end, 4-color spot printing and large volume capabilities. WCI has been a premier supplier of SOS bags for more than 30 years in their Green Bay, WI facility.
"There are significant opportunities for growth in the markets we serve to enhance printing capabilities with our 2# offering," says WCI president Richard Bierman. "We can now say 'yes' to more customers and that's always exciting. We're constantly seeking ways to improve so we can serve our customers more effectively."
Popular 2# SOS Bag Uses:
Popcorn Bags – used by concession stands, car dealerships, banks, and popcorn distributors to promote their brand and serve fresh-popped popcorn
Single Servings – used for packaging single servings of food "to-go", side dishes, and small menu items like chips, etc.
Packaging small retail & hardware items
Pharmacy – sending home single prescriptions or small medical items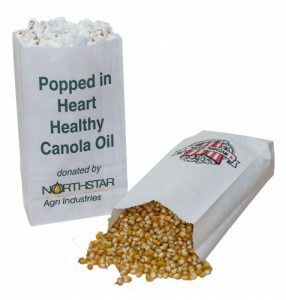 2# SOS Bag Specifications:
SOS bags are flat bottom, stand-alone bags ideal for use in a variety of packaging applications.
2# Bag Dimensions: 4 1/4″ x 2 1/2″ x 7 7/8″ (subject to slight variations as this size runs on multiple machines)
Basis Weights Available: 30#, 35#, 50# (Heavy Duty)
Available plain and custom printed
Up to 4-color spot printing / 100% bag coverage
Available in White, Recycled Natural, and Stock Colors
Single case to Truckload quantities
Carton packed for easy storage and handling
Call us today with your 2# bag opportunity. Large or small – we want them all!