In true Midwestern fashion, Spring in Green Bay lasted all of two weeks. We had 20 inches of snow the third week in April, and now it's 80 degrees and sunny. Summer means outdoor fun and events like carnivals, fairs, and festivals. The biggest state fair in the United States is the State Fair of Texas which sees about 3.5 million visitors over its four week run.  It's also famous for its food creations like last year's deep fried chicken noodle soup on a stick and deep fried fruit loops. How you deep fry soup? I guess we'll have to go to Texas to find out!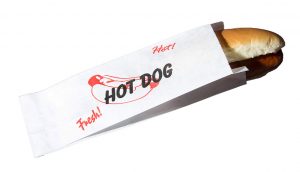 Concession food is a big part of any summer festival, and it's definitely moved beyond cotton candy and funnel cakes. It's often the reason many people attend, so fairs and festivals have really upped their "unique" food game over the past several years. Here are some interesting food creations you can find at fairs around the country:
Montana State Fair: deep fried butter balls. I wonder if Paula Deen knows.

Yes. Those are pickles, soaking in Kool-Aid.

Massachusetts State Fair: Fried jelly beans. Think funnel cake and Easter candy rolled into one.

Wisconsin State Fair: Elvis on a stick. Just what you think it is – banana battered peanut butter cup and bacon, fried.
North Carolina State Fair: Kool-Aid pickles. Yep – they soak pickles in bug juice.
Orange County Fair: Deep fried White Castle burgers. Because that sodium-laced sammy wasn't heart attack inducing ENOUGH.
Oklahoma State Fair: Deep fried mashed potatoes on a stick. I can't even begin to imagine the engineering to get that to work.
Arizona State Fair: Sauteed meal worms.  Before you say, "ew," sometimes they stick them to candy apples.
We carry a wide  assortment of stock printed and unprinted concession food bags, including fried pie or Twinkie bags, hot dog and corn dog bags, peanut and popcorn bags, pickle bags, and fried sandwich and pizza bags. Grease resistant and gourmet bags are perfect for town festivals and school fairs, as well as the larger state fairs. As always, we can even custom print bags with fair or festival logos. So give our customer service team a call, order up your bags, and let's all go try some deep fried fair food this summer. I'll bring the antacids!