It happens. Shipments making their way across the country arrive with some wear and tear and sometimes that can mean damaged product. Filing a claim with carriers requires specific information and a little effort on everyone's part – the responsibility lies with all parties to reduce the amount of potential damages and to properly document damages when they occur.
What we do: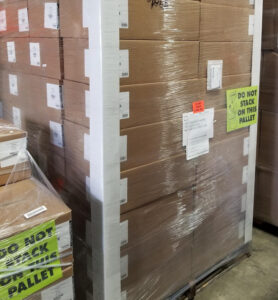 Our goal is for you to receive your bags in working condition and without damage. In order to accomplish that, we take several measures:
Carton packing all product to protect it better during shipping. Bundled or baled packaging can increase likelihood of damage.
Using high-quality cartons, pallets and stretch wrap to protect product during shipping. Not using cut-rate supplies means they hold up better to wear and tear.
Stacking pallets to a height that will mitigate damage during transport. We add "DO NOT DOUBLE STACK" license plates to every palleted shipment that leaves our facility so trucking companies don't stack anything on top of our pallets.
Working with carriers that are committed to delivering your product intact and to customer satisfaction.
When you receive a shipment:
Double check your Bill of Lading (BOL) and Packing Slip to be sure all items are accounted for.
While the driver is on site – inspect the shipment for damage including water damage, crushing due to double stacking, broken or missing stretch-wrap, torn or damaged packaging, etc.
If you receive damaged goods:
No matter how minor the damage may seem, it's important to document and advise of damage immediately to ensure we can process a claim if necessary. Sometimes damage appears superficial but ends up requiring a claim. Citing damages doesn't mean you necessarily have to file a claim – but not properly noting them upon arrival will make it very difficult to submit a claim. A claim can only be filed if damage to the product occurred.
We recommend the following steps prior to the driver leaving your facility:
Take pictures of the shipment and note any damage in concern.
Sign "damaged" on your BOL and Proof of Delivery (POD) and note any damaged or missing product.

Clearly note the following information:

Damaged box count
Lot or item #
Product description
Description of damage

Only sign the POD once damage is noted – provide the driver of a copy of the document.
Once the driver leaves, send your photos, copies of documents, and note of any damaged items to [email protected] (or to your carrier if you arranged your own freight) right away. Freight claims can take anywhere from 30-120 days to resolve – filing immediately increases credibility and likelihood of the approval.
Next Steps:
Once you've submitted your claim information, we will communicate with you to increase the chances of resolving the claim to satisfaction. While you're waiting for resolution:
Keep the freight! Never discard any product, even if damaged, until your claim has been fully processed and resolved. Getting rid of the damaged freight may result in the claim not getting fully paid, or denied altogether.
Pay your invoice. Non-payment of invoiced product or freight may impact the outcome of your freight claim.
WCI Damaged Goods Policy:
If you (or your customer) receive damaged or missing merchandise, please follow the procedure below to receive credit or replacement goods:
Immediately take pictures of the damaged cartons and/or pallets (before handling) and actual product (bags) upon receipt. **If shrink wrap appears to be damaged for LTL, note this on the POD and take a picture. Carriers require this for claims. For UPS shipments, photo of each label(s) showing tracking number required with photos of damaged product.
The delivery receipt MUST be signed with the quantity of damaged cartons noted, missing product, or if shrink wrap is intact. If you are unwilling or unable to store the damaged merchandise until a claim has been processed (within 120 days) please refuse the damaged merchandise.
Contact us to notify one of our representatives of the incident. They will assist in processing a claim, issue a Return Material Authorization number (RMA), and issue credit or replacement.
Failure to follow these procedures will result in failure to receive credit or delay in processing.
Replacement cartons are sold at cost – unless damage upon receipt is proven and claims are being processed.
Conclusion
Working together to correctly document and file freight claims is beneficial to WCI and our distributors. The responsibility falls on us each to do our part to resolve claims promptly and successfully. Learn more about additional freight costs (and how to avoid them) and WCI Purchase Terms & Conditions.