Earlier this month, Hurricane Dorian hit the southeast part of the US, causing major damage and travel delays in that area. From a transportation and logistics standpoint, the ripple effect was felt nationwide. Hurricane season is in full swing, and winter weather is around the corner. Order delays can cause unhappy customers – so let's look deeper at why this happens and how to reduce frustration.
Why does severe weather in one area of the country affect my shipment?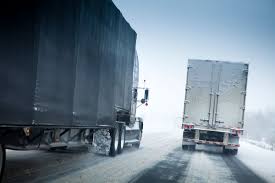 If you've seen "Planes, Trains, and Automobiles" you know that weather affects travel – except that it's not funny in real life. Just like poor Neal Page, your shipment can have difficulty arriving at its destination if foul weather hits. Much like the airport, where travel delays are expected when inclement weather strikes, trucking companies are often at the mercy of Mother Nature.  Even if the weather is perfect where your package needs to be delivered, doesn't mean you're in the clear.
Inclement weather can cause delays due to terminal closures, reduced travel speeds, road closures, and re-routing of shipments. The intricate network of road, rail, and air shipments that make shipping across the US possible, mean weather issues in one area can "snowball" into a larger issue across the country.
What do shipping companies do to avoid delays?
Between them, UPS and FedEx deliver almost 20 million packages a day. In order to deliver on time, these companies employ large teams of meteorologists and logistics specialists to forecast weather patterns and reroute transportation routes when necessary. Shipments are delayed only as a last resort when driver safety is at risk.
The same goes for LTL carriers, because delays are costly.  According to the United States Department of Transportation, weather-related delays cost trucking companies and commercial vehicle companies anywhere between 2.2 billion and 3.5 billion dollars annually. The more trucks they have stuck on roadways or full of undelivered product, the fewer they have available for other shipments.
How can I avoid late shipments due to weather?
Unfortunately, it's impossible to control the weather. But there are a few things that you can do to reduce the frustration caused by weather-related shipment delays.
Plan ahead. Order your product well in advance to allow additional time for unexpected delays.
Communicate. If you're in an area expecting severe weather, stay in touch with suppliers and/or freight carriers to make special arrangements if necessary.
Track your shipment. Utilize the tracking information provided on our order shipment notification to see where your package is. Some carriers allow you to sign up for email or text notification of delays or delivery.
Be patient. Having your product is important. But not more important than someone's safety. In a time where we're all used to the instant gratification that next-day or same-day delivery can provide, remember that there are still people working hard to make sure you get your products. Their safety should be priority #1.
Sources: https://www.wonolo.com/blog/how-ups-and-fedex-tackle-inclement-weather/, https://thejunctionllc.com/bad-weather-affect-ltl-freight-shipments/, https://blog.freightcenter.com/blog/how-weather-affects-your-freight-shipment