When choosing packaging for cookies and other baked goods, presentation is key. Bakeries, restaurants, and cafes looking to set themselves apart and give patrons that little "something special" choose Gourmet bags because they look good and keep items fresh. Nobody wants a paper bag that seeps grease and oil. It's unsightly and unsanitary. Gourmet bags from WCI are the perfect balance between affordable and attractive – ideal for packaging cookies, doughnuts, bars, candy, nuts, and more.
Gourmet bags are constructed of two layers of paper. The outer layer is 30# kraft paper to provide a clean look; the inside is glassine, which provides the grease barrier. Why are two layers necessary, you ask?
Luckily, the minions are on summer vacation for a few more days. What better way to demonstrate the merits of the Gourmet bag than have them whip up a batch of fresh-baked emoji-style  cookies? One look at a plain, grocery-style bag illustrates how grease is absorbed by the paper. It not only looks unappealing but can lead to stains and leakage.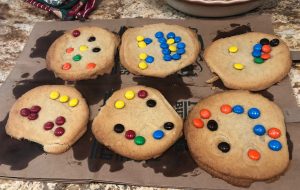 Compare that to the Gourmet bag, where the glassine lining traps in the grease so the outside is clean and grease-free. The moisture barrier also helps cookies stay fresh longer (though that's never really an issue at our house). Which one would you rather pick up and carry home?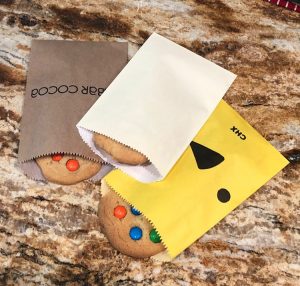 Gourmet bags are stocked in eight standard paper colors that look great plain, printed, or hot stamped. One case minimums make them feasible for special events and small businesses. Bakery chains, restaurants, hotels, and other customers who use larger quantities can take advantage of volume discounts. For businesses seeking an eco-friendly food packaging option, Gourmet bag are a sound choice. They're made with paper, which is a a renewable resource that's recyclable, biodegradable and compostable.
Gourmet Bag Features:
100% compostable and biodegradable
100% recycled Natural Kraft options available
3 Standard Sizes
Two-ply configuration (paper outer / glassine inner)
8 available colors: White, Recycled Natural, Black, Cream, Petal Pink, Sky Blue, Sunbrite, Wild Rose
Minimum order: 1 case (1,000) bags
Call today for more information on paper cookie bags, Gourmet bags, and other food packaging options.