I love shopping online. And I love Amazon – I don't know what I'd do without it. But I'll be darned if they didn't provide me with fodder for celebrating Particularly Preposterous Packaging Day once again this year (see last year's post). This weekend my husband and I went fishing with some friends and, to preserve our catches, we ordered a food storage product online. Yesterday I met the mail carrier in my driveway as he approached with a HUGE package. I wondered what in the world could be in that box. I couldn't believe my eyes when I saw it was our vacuum sealer … in a box the size of an artificial Christmas tree.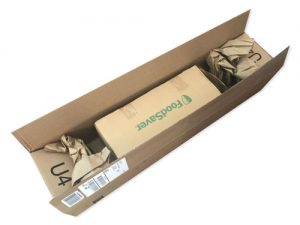 The box was double the size of the product inside. Which seemed, well, preposterous! Amazon, along with many online retailers, is diligently looking to reduce packaging and make more sustainable packaging efforts. Choosing right-sized packaging and avoiding over packaging items is one way online retailers can avoid "preposterous" packaging.
While the vacuum sealer wouldn't have been ideal candidate for our paper shipping bags, many other items are. Here are some popular uses for WCI Eco-Natural, Eco-Shipper®, and Dura-Bag®:
Clothing/Apparel
Accessories (Scarves, Belts, etc.)
Upholstery Samples
Pet Supplies
Fundraising Items (bracelets, notepads, etc.)
Jewelry
Handmade Goods
Blankets / Quilts
Prescriptions / Mail Order Items
Fundraising Kits
Don't be a #packagingfail. For more information on paper mailers, contact our team at 800-544-1935.