The paper bag is not a difficult thing to understand, but when it comes to sizes sometimes things can get a little fuzzy. Most paper bags are identified by their dimensions, starting with the width of the bag, then the gusset, and then the height. Some bags, however, are identified by other means. With shipping bags, there are industry standard sizes, indicated by numbers. For SOS bags, the size indicators are pounds. For example a 2# SOS bag is a standard size that measures approximately 4 1/4″ x 2 3/8″ x 8 3/16″. Manufacturer sizes may vary slightly, based on machine and gears but generally speaking it will have similar volume.
SOS bags can be used for a variety of uses in the food service, retail, and industrial markets, but they are almost always identified by the "pounds" they can hold. Why pounds? And pounds of what? Certainly a pound of nails would require a different bag size than a pound of cotton balls. History indicates that the original reason for the pounds measurement was for the amount of sugar a bag could hold – so stores could accurately measure and sell to customers. We wanted to test that theory to see if it worked out – the paper bag version of "Myth Busters," (at least in our own minds). So we grabbed some bags, sugar, and our trusty kitchen scale.
Testing the 4# SOS bag. When putting 4# of sugar in the bag, it allowed for 4# of sugar and enough head space to fold over the top of the bag and seal it.


We also took a look at the 6# bag, to see if the results were similar: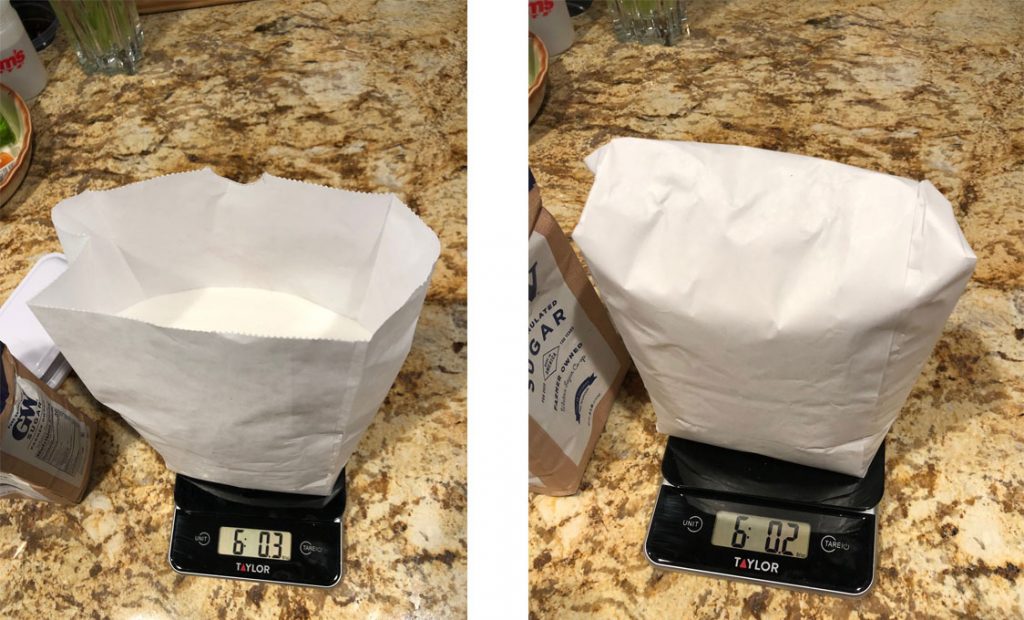 For both bags, we were able to prove that the approximate weight of sugar is a good indicator for bag size. So consider that "myth": Confirmed!
SOS bags can be purchased in standard sizes ranging from 1# to 1/6 Barrel – and several different substrates including 100% recycled kraft, white, colors, grease resistant, and heavyweight . They're used for a variety of purposes including restaurant carryout, bakery, popcorn, retail, hardware, grocery, pharmacy, and various industrial uses. To help guide your product selection, we've put together some recommendations for our most popular sizes based.
2# SOS (4 1/4″ x 2 3/8″ x 8 3/16″)
4# SOS (5″ x 3 1/8″ x 9 5/8″)
6# SOS (6″ x 3 5/8″ x 11 1/16″)
Pharmacy / Prescription
Retail Packaging
Bakery / Bagel / Donut
Lunch
Crafts
Gift Packaging
Restaurant Carryout
Evidence / Forensic Collection & Storage
12# SOS (7 1/8″ x 4 3/8″ x 13 15/16″)
Pharmacy / Prescription
Retail Packaging
Gift Packaging
Restaurant Carryout
Bakery / Bagel / Donut
20# SOS (8 1/4″ x 5 1/4″ x 16 1/16″)
Pharmacy / Prescription
Restaurant Carryout
Liquor Stores
Industrial Uses
Evidence / Forensic Collection & Storage
Modified 1/6 Barrel (11 x 6 x 17) or Standard 1/6 Barrel (12 x 7 x 17)
Retail / Pharmacy
Grocery
Restaurant / Carryout
Evidence / Forensic Collection & Storage