When is a paper bag more than a paper bag? When it becomes part of your customer's buying experience! Think about it. If a customer purchased your carefully crafted product and carries it out in an ordinary plastic "t-shirt" bag you would get at a convenience store, it not only doesn't promote your business – it sends the message that the product inside the bag is nothing special.
Now picture a customer leaving your store with a bag professionally printed with your brand colors, logo, and contact information. You've not only made that customer feel that they've purchased something special but given them a way to pass along your marketing message, website, and phone number to prospective clients. Suddenly custom-printed bags are not an expense – they're an investment!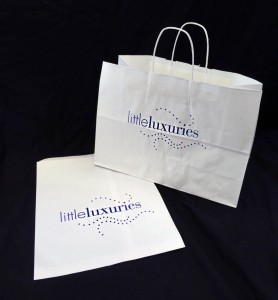 When customers walk out of your store with their goods, they're carrying your image in their hands. Use the opportunity to let them feel proud of their purchase, and spread the word to potential customers. This is especially true for small – or new – businesses. Printing your logo and brand message on your packaging is a practical and cost-effective way to reinforce your marketing efforts.
Selecting the right size.
WCI is a trusted manufacturer of quality paper packaging products that will fit the bill for retail customers seeking a coordinated packaging effort from one dedicated, reliable source. One-case minimums and large volume pricing options on custom printed paper bags and shipping bags give our customers the opportunity to get the right size bag for the job.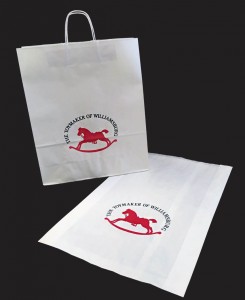 Often times, more than one bag size is necessary for stores and eateries and we have a number of solutions that will fit the bill. Sometimes a small pinch-bottom merchandise bag or a square-bottom SOS bag will be suitable for small orders; other times a larger handled shopping bag is necessary to carry the load. Our team coordinates ink, paper, and handle colors to ensure a graphically coordinated packaging appearance between all bag types and sizes.
Brick-and-mortar stores that ship product directly to consumers may also require printed mailers that will match their brand identity while delivering products in a safe and attractive package. We've got a solution for that too!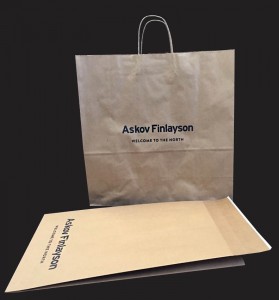 A responsible choice.
Coordinated packaging campaigns with low minimums mean you can order several sizes and types of bags in order to properly fit the product. That means using less material and wasting less packaging and void fill. In addition to sensible packaging efforts – you'll be glad to know that we've taken our commitment to the environment most seriously.
White and kraft handled shopping bags are a packaging solution suited for even the most environmentally-conscious businesses. Manufactured with high-content, post-consumer and FSC© certified papers, they're made to meet and exceed municipal regulations. And of course, they're 100% recyclable, reusable, and biodegradable.
Paired with 100% recycled natural merchandise bags, SOS bags, or Eco-Natural mailers, your handled shopping bags will complete your packaging portfolio.
You've worked hard to make a quality product and build a positive brand image – let WCI help you spread the word. Packaging has been called a "walking billboard" – call it whatever you want – but make sure you call WCI to get started!