Creating festive, coordinated holiday packaging that promotes your brand has never been easier. Regardless of quantity, Wisconsin Converting can manufacture custom printed or hot stamped paper bags for online and brick-and-mortar stores. From local retailers preparing for Small Business Saturday to online merchants who want to save on their shipping costs, our low minimums and reliable service make WCI the preferred manufacturer for holiday packaging.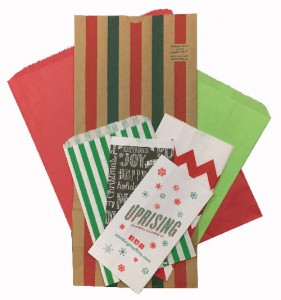 Choose from our wide selection of options for your branded holiday packaging:
1.Small Quantity Hot Stamped Merchandise and Gift Bags
What are the holidays without a little shimmer? WCI manufactures and stocks hundreds of sizes and colors of pinch bottom and square bottom gift and merchandise bags that are available hot stamped. Dress up a stock colored bag for the holidays with a metallic hot stamp logo. When customers make a purchase at your store, give them an elegant handled shopping bag with a little extra pizazz. Hot stamped paper bags are popular with jewelry stores, gift shops, and clothiers who choose unique and upscale packaging as part of their branding.
2. More than a bag. Give them a gift!
When customers leave your store with their purchases this holiday season, why not give them a gift that's ready to give? Printed bags with festive holiday designs and, of course, your logo are a perfect way to get your message out there and save your customers time. Busy holiday shoppers (especially the men!), will appreciate the extra effort to make the packaging special.
Wrap their items in holiday tissue, place a pretty ribbon around it and put it in a paper bag that's truly part of the gift itself. WCI manufactures bags in a variety of holiday-appropriate colors. Choose from red, forest green, lime green, white, and recycled natural kraft. Retailers in areas regulated by paper bag legislation can count on us for recycled natural kraft bags that are 100% recycled and meet all disposable bag requirements.
3. Small Quantity Post Printed Merchandise and Gift Bags
One-case minimums on post-printed merchandise and SOS bags make WCI the supplier of choice for holiday promotional bags. Savvy retailers appreciate the cost savings and convenience of low minimums; you don't have to purchase thousands of bags printed with designs only utilized for a short time. Mix it up a little – order a few different designs, change the ink color, or print a few different colors of bags to give your holiday packaging a unique twist.
4. Custom Printed Shipping Bags
Online holiday shopping is growing each year – and the importance of providing customers with an "experience" when they receive their shipment is making a difference in how customers perceive online gift giving. E-retailers can give customers something to look forward to when they open their mailbox! With printed shipping bags from WCI, you can deliver the goods – and your brand message to their doorstep. Choose from Eco-Natural 100% recycled natural kraft mailers, Eco-Shipper® recycled white mailers, or reinforced Dura-Bag® shippers. Many popular sizes are in stock and available for post-printing, hot stamping or, for larger quantities, flexographic printing.
Call WCI today for more information on stock, custom printed, or hot stamped bags. Ordering today will ensure arrival in time for holiday sales and promotions.