Hardware bags, as their name would suggest, are ideal for hardware and automotive parts stores but they provide packaging solutions for a number of other markets. And some may surprise you!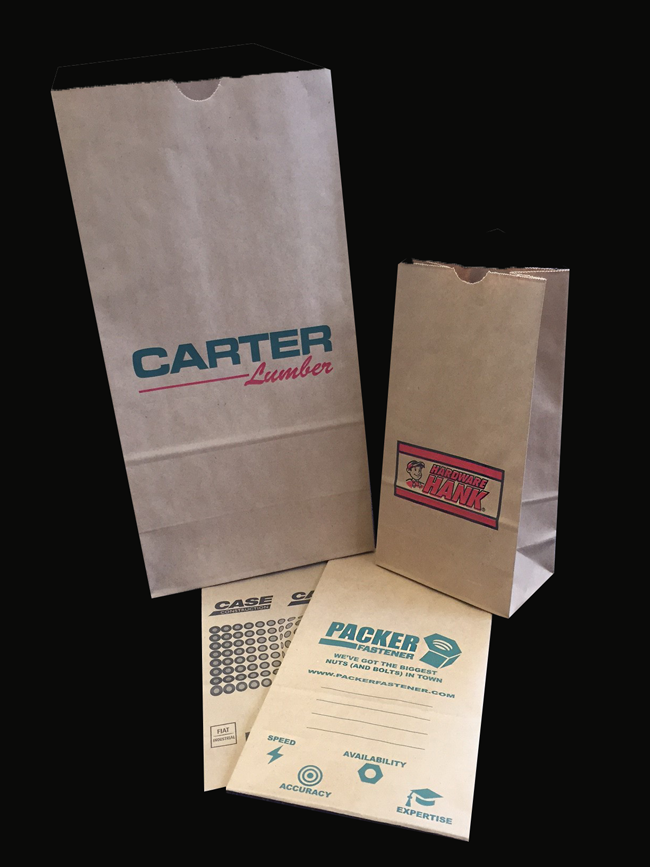 Manufactured with heavyweight kraft paper, these square-bottom SOS bags hold up well in many applications where a stronger paper bag is necessary. WCI's hardware bags are made in the USA and preferred by:
Hardware and automotive parts stores (packaging for nuts, bolts, screws, etc. in quantities).
Paint, lumber, and building supply outlets (where items may be too heavy for a standard SOS bag).
Grocery stores (for liquor departments and for customers who prefer paper to package their items).
Cooperatives, livestock feed suppliers, and farm supply stores.
Garden supply and seed outlets.
Law enforcement and forensic departments – paper Evidence bags can be printed with areas to record data and chain of custody information.
Liquor stores and wineries (heavier basis weights keep bottles safe, paper packaging keeps bottles from clanking together).
Restaurants and delis for carryout or delivery (an array of stock sizes provide options for any type of delivery).
Custard and ice cream stands – used for "to go" quarts and pints.
Food banks – packaging or delivery bags.
Food packaging – our heavy-duty SOS bags have been used for fudge, coffee, organic Oatmeal, flour, dog treats, and more.
Specialty items – hardware bags have been used to package unique items including specialty charcoal; they've even been made to be used as cat toys (bags printed with catnip-infused ink).
"Bag sale" promotions. Offer customers a savings on anything that fits in this bag. You've probably seen them used at retail stores, office supply stores, meat markets, grocery stores, thrift shops, and more.
Retailers in areas where plastic bag legislation is in place can also use these recycled paper bags. They meet legislation requirements and are manufactured with a minimum of 40% post-consumer fibers.
Craft shops, Etsy sellers, farmer's markets stands, and handmade gifts. Hardware bags are easily stamped on, printed on, drawn on, or decorated to personalize for items that deserve a personal touch. Low minimums on stock, printed or hot stamped bags make them a realistic option for small businesses or special events.
Distributors serving these kinds of businesses should consider presenting WCI hardware bags as an option. WCI makes it easy to add value and help your customers promote their business or product with personalized printing. Branded packaging is easier and less expensive than your customers will expect – and with minimums starting at just 250 even the smallest business make a statement. Call our helpful sales team today at (920) 437-6400 to receive samples and pricing!