This weekend I walked into a local boutique and purchased a gift for a friend's birthday. The cashier handed me a plain paper bag with my purchase. While I was thankful she chose paper, the "bag nerd" in me wondered why they didn't print their logo on the bag.
Large companies use printed paper bags as an economical and eco-friendly way to promote their brand. But many times small businesses don't realize they can also use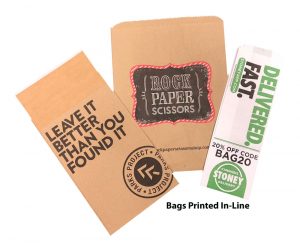 custom printing to spread their message without high minimums or excessive costs.
There are two methods of custom printing available at WCI:
In-Line Printing: Printing a logo onto the paper as the bag is manufactured; before the paper is folded, cut, and glued.
Post Printing: Applying print to a paper bag after the bag has already been produced.
What's the difference?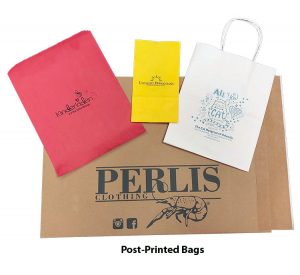 Both in-line and post printing have benefits, depending on the needs of the client. For small businesses needing only a case or two of bags, post-printed bags are an ideal solution. Printing on a completed bag creates some limitations to print size, print location, and number of colors printed because the printed area must avoid gussets, folds, and seams in order to provide a quality product. But customers can order as few as 250 bags, depending on the type and size of bag. Ordering in low quantities costs more per bag, but saves money and storage space for businesses without resources to purchase or store thousands of bags. It's also a great option for special events or short-term sales.
Conversely, in-line printing applies ink before the bag is folded, cut, and glued. That means there are more options for print size and location. Print coverage can include gussets and more complex designs. Bag converting machines are large, complex machines that require special set up for each individual job – which means certain minimum order requirements. Minimums for in-line printing depend on bag size and type, but start at 5,000 bags. Higher quantities can lead to volume discounts, lowering per bag prices for larger businesses.
No matter which type of printing best fits your business, having a printed bag means your customers will spread your promotional message every time they walk out your door with bag in hand. Don't pass up an affordable way to promote your business. For specifications on in-line or post printing, view our printing specifications or view post print area chart for specific bag sizes.
Call our customer service team today at (920) 437-6400 to discuss your printed paper bag needs.