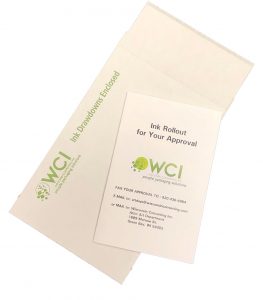 In the WCI catalog, we note that we require customer approval of ink drawdowns (also called ink rollouts) on printed bags manufactured with recycled natural or colored paper. Why is that? According to WCI ink technician Dennis Dominiczak it's because "the combination of the ink and paper chosen will determine the appearance of the final product – and the only way to accurately represent that is to physically put the ink on the paper." A drawdown is a hand-rolled sample of an ink on a piece of paper.
Why does color change happen? 
In printing inks, pigments (fine particles of colorant) determine not only the color of the ink, but also properties like absorbency and transparency (opacity). Opacity, also referred to as "covering power," describes the extent to which the pigment allows the color of the substrate to show through. That means the Pantone ink color you request may print differently on different papers – depending on it's opacity.
Unless the paper is bleached white, it will likely affect the appearance of the ink that is applied to it. A drawdown is the most accurate way to show what effect the paper and ink combination will create.
How long will the process take?
As part of our comprehensive pre-print process customers receive an ink drawdown so they can review the ink they select on their chosen paper color. This allows them to adjust their choice prior to production and avoids potential disappointment with the final product. Unfortunately in the age where doing thing digitally is the norm, this is one step that needs to be done "the old fashioned way." Customers receive a physical sample of the paper/ink combination because photos or scans will look different on every monitor.
Custom printed bags are totally custom, which means your ink drawdown will be hand-prepared by our ink technicians and shipped via UPS to your attention. Depending on shipping days, you can expect to receive it in approximately 3-5 business days. To expedite the process. approvals can be scanned and emailed back to [email protected] We recommend keeping your copy for your records. If your customer is under a strict deadline and is willing to take the gamble, they can waive the ink drawdown and proceed directly to production at no additional cost. However, by waiving the drawdown, they will be required to sign a release stating that there will be no allowances or returns made for ink color.
Is there a cost?
The only time additional costs may be incurred is if the order is canceled or if the customer requests more than one set of drawdowns. For customers requesting ink drawdowns prior to placing a PO, there will be a $25 charge if an order is not placed.
Have more questions about custom printing? Visit our website for standard ink colors and printing specifications.
With more than 30 years of experience in printing and manufacturing paper bags, we pride ourselves on providing quality printed bags at reasonable prices – with the best service in the business. One-case minimums allow us to provide branded bags for small businesses nationwide. For more information on custom printed bags, call our helpful Customer Service team at (920) 437-6400 or email [email protected]. View our gallery of printed bags on our website.