In 1971, four high school students in San Rafael, California formed a club called The Waldos. Legend has it The Waldos heard a story of a coast guard member who had planted a cannabis plant but was called back to service and could no longer care for it. The Waldos decided to search for the elusive plant together and met every day after sports practice at a statue on the school campus at exactly 4:20 PM. They never found the plant, but they did coin the phrase used worldwide to covertly signify marijuana – 420. That has blossomed to include April 20th as 420 day.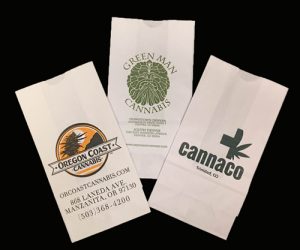 In 1996, California passed the first medical marijuana law. Since then, 24 states have passed laws to legalize either medical marijuana, recreational marijuana, or both. According to the magazine High Times, as of February 2018, there are 2,614 licensed marijuana dispensaries in the United States. Laws vary, but dispensaries have regulations regarding how pot is packaged and exits the dispensary doors. Most states require exit bags – the bags used to carry the product out of the dispensary – be opaque or non-see-through and large enough to hold several "servings" if they are individually wrapped. Paper bags are an economical choice for dispensary exit bags that also allow for custom printing to advertise the dispensary brand. Medical marijuana dispensaries often use pharmacy bags as exit bags, since their product is dispensed via a doctor's prescription or recommendation.
As the number of states that have legalized marijuana sales increases, the number of dispensaries will also increase. Colorado, for example, has over 1,000 licensed dispensaries and that number is growing. Branding will become increasingly important for these businesses to stand out from increasing competition. Consistent branding will help the business define itself and stand apart from its peers. Carrying that branding through product packaging to the exit bag will become imperative for successful entrepreneurs.
Call our customer service team at (920) 437-6400 or email us at [email protected] to help your local dispensaries create their custom branded exit bags, by the case or the truckload. And happy 420 Day!