Eco-Friendly Packaging for Handcrafted Soap & Bath Bombs
When it comes to packaging, nothing says "natural" quite like a paper bag. Artisans seeking an environmentally-friendly solution for packaging their handcrafted soaps want something that is grease or oil-resistant, recyclable, and inexpensive. That's why many of them choose paper bags to package their products.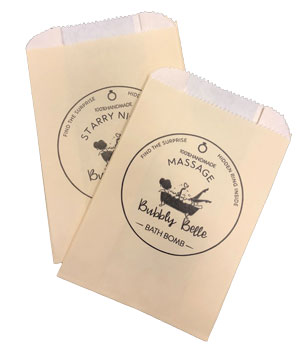 Paper bags come in many shapes, sizes, and colors that effectively pack single bars of soap– or multiple items. From small recycled brown paper merchandise bags, to glassine bags, and grease-resistant SOS bags, we offer a range of products for packaging soaps, bath bombs, lotion bars, and more. Our Eco-Natural shipping bags are growing in popularity with Etsy shop owners and others who ship bath products worldwide.
Here are some creative ways soap makers are using WCI paper bags for packaging hand-made soaps, lotions, and bath bombs:
Choosing different colored paper merchandise bags for packaging different scents. Think pink for rose-scented soaps, purple for lavender, yellow for lemon…you get the idea. It's an easy way to package, sort, and identify different items and to display them for sale.
Purchasing a specialty bag like glassine-lined Gourmet bags to package bath bombs or bars of soap – eliminating the need for pre-wrapping in plastic or another wax paper. Originally created as an upscale way to package candies and cookies, Gourmet bags come in many vibrant colors and have become trendy for soap artisans because they are functional and attractive.
Specialty products deserve a distinctive touch. Plain paper bags

100% recycled natural kraft bag used for Goat Milk Soap

can be hand-stamped, doodled on, or labeled with stickers. Add ribbon and a gift tag, raffia, a hint of glitter, or another unique twist to give plain bags some personality.

Custom printing. Any of our stock bags can be custom printed with product descriptions, logos, instructions, and more. Minimums as low as 500 bags can make personalized packaging possible for home businesses.
Packaging should promote the products within. Paper bags are clean, simple, and natural. Call today for samples and more information.