WCI makes just two types of bags. That's all, you ask? No, we didn't suddenly stop making our full line of products. In fact, we have increased our capabilities over the past year. We'll tell you more about that in a minute. But first let's start with the basics.
We make two types of bags:
Pinch Bottom
Square Bottom
That's it!
Whether you call them merchandise bags, gift bags, pharmacy bags, colored bags, tinted bags, pre-printed bags, popcorn bags, to-go bags, bread bags, shipping bags, perforated bags, parts bags, or retail bags, it doesn't matter. Heck – you might not even call them bags at all. Maybe you call them sacks or mailers or envelopes. But in the end there are really just two types. Pinch bottom bags and square bottom bags. It's what you do with them that matters. We like to think of them as packaging solutions.
At a recent trade show we had many customers comment that with our newly expanded capabilities it seems that we can do custom packaging to fit just about any of their needs. We've done postage stamp bags, toothpick bags, oatmeal and flour bags, and even giant bread bags large enough to fit a kindergartner – up to 60" long.
Custom size bags are just the beginning – we can also do custom converting of different substrates. We've manufactured bags with coated paper, pre-printed paper, waxed paper, duplex paper, liner-board, heavyweight paper,
Our pinch-bottom bags serve a variety of markets and are available in sizes from 2" wide to 60" long. The options are unlimited when it comes to colors, substrates, and uses. Lightweight glassine bags are used in bakeries and confectioneries, heavyweight liner-board is used to make Eco-Natural® and Eco-Shipper® mailers with a peel & seal closure, and random designs are used to make our Thrifty Prints economy line of pre-printed gift bags.
Square bottom bags, also known as SOS bags or lunch sacks are popular with hardware stores and in the food service market for carryout, delis, and popcorn and hardware stores. Again, stock colors make them perfect for retail or gift shops and heavyweight Kraft paper is available for industrial, agricultural or hardware applications.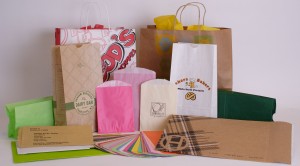 If you can imagine it, we can make it. Give us the opportunity to create a custom packaging solution for you.