Paper Silverware Bags – Keeping Silverware Clean and Safe Before it was Cool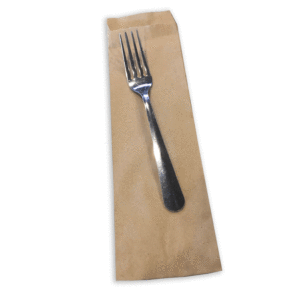 As we approach a "new normal" with dine-in and carryout restaurants reopening in many parts of the country, customers expect to see increased cleanliness standards throughout their dining experience. But wrapping utensils in napkins requires substantial handling time – especially for restaurants that may normally have set forks, knives and spoons on the table with no protective barrier. Using pre-wrapped disposable plastic cutlery can be costly and dangerous to the environment. There is another solution.
Paper silverware bags have been around for years, but they're gaining new popularity as restaurants seek a way for their staff to minimize handling of sanitized silverware. They can also cut approximately 40% of employee time spent wrapping utensils in napkins. This gives staff more time to serve customers and perform other types of cleaning. When many restaurants are limiting their staff, these potential time savings make a real difference.
WCI Silverware Bag Options
Stock Silverware Bags

Bag Size – 2.75" x 10"
Available Colors – White, Recycled Natural Kraft
2,000 bags/case
Plain/unprinted
Custom print available per quotation

Minimum order – 50m
Up to 2-color print available

Economy Silverware Bags

Bag Size – 2.75" x 10"
Made with variable paper colors and basis weights
2,000 bags/case
Plain/unprinted
Minimum order – 50m. Lead time TBD at time of order.
All sales final. No quantity price breaks. Paper subject to vary in type, color, basis weight, etc.
Silverware bags are useful for delivery, to-go, or dine-in orders where customers receive reusable or disposable cutlery. One restaurant manager says, "These bags are a real time saver – and they make our customers feel safer. That's really important given today's circumstances."
Benefits of Paper Silverware Bags
Hygienic – After sanitizing silverware, simply slip into a bag and fold the top over to keep it clean until ready to be used. The bag will protect the utensils from dust, germs, and other potentially hazardous contaminants.
Time Savings – When you switch to paper bags for silverware protection, your staff will spend fewer hours each day wrapping utensils. Just slip the items in the open-top bag, fold it over, and move on.
Easily Branded – Who says safe silverware has to be boring? We can print your logo, sanitization message, and inspirational message or a joke to lift customer spirits on your silverware wrap.
Eco-Friendly – Paper silverware bags are 100% recyclable, biodegradable, and compostable. We use sustainably forested paper from trees grown in North America.
Economical – Restaurants can save on napkin costs and employee time when switching to paper bags.
Made in the USA – When you buy our paper silverware bags, you're supporting American workers at a time when they need it most. As an essential business, we're hiring displaced employees from other industries and providing a safe workplace and reliable income for people right here in the USA.
When presentation and cleanliness are of the utmost importance, paper silverware bags are an ideal packaging solution. Call our sales team today for more information.