It turns out Wisconsin is more than just a mecca for beer, cheese, and the Packers. Who knew? When it comes to paper and packaging we're at the center of it all. Wisconsin boasts more than 25,000 people employed in the paper manufacturing industry. That's the most in the nation, according to this recent report by the University of Wisconsin – Stevens Point College of Natural Resources, and many of them are located in right here in Northeast Wisconsin.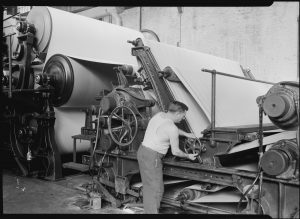 More than 40 of Wisconsin's counties are involved in paper manufacturing of some type. Green Bay and the surrounding areas are a center for paperboard, paper bag, and coated and treated paper manufacturing and distribution. That includes companies like WCI and a variety of other paper manufacturing, coating, and converting companies. Products made in our area include everything from packaging cartons, to paper bags, to sanitary paper products like toilet paper and paper toweling. Wisconsin is also home to companies that make the machines that convert paper into usable products.
By the Numbers
Wisconsin has been a leader in the paper making industry for more than 50 years
Wisconsin's paper industry creates approximately 5.3 million tons of paper and 1.1 million tons of paperboard annually.
Logging and forestry create more than 60,000 jobs for Wisconsin residents through logging, trucking, paper production, manufactured building materials, and lumber.
Fun Fact: Papermaking in Wisconsin began in Milwaukee on March 7, 1848. The paper was made of rags and used to publish the Milwaukee Sentinel & Gazette. Three months after the first papermaking began in Wisconsin, President Polk signed legislation to make Wisconsin a state.
Paper, like the Packers, is in our blood. We live it. We love it. And it's the core of our business. Many of our employees have been in the business for decades – just over 20% of our team has been with WCI for 10 years or more. And those who are new to WCI are often not new to the industry – having been with other converters or manufacturers in the area.
Our experienced workforce is dedicated to providing you with the best quality and service each day. We're pleased to bring you a sustainable packaging option that's recyclable, biodegradable and compostable. As more businesses choosing paper for their retail, hospitality, industrial and food service packaging, we are excited to be part of an industry that supports our local economy while remaining a sustainable packaging alternative.
Sources: https://dnr.wi.gov/topic/Sectors/Paper.html, https://www.uwsp.edu/wist/Pages/default.aspx,                https://www.wipaper.org/